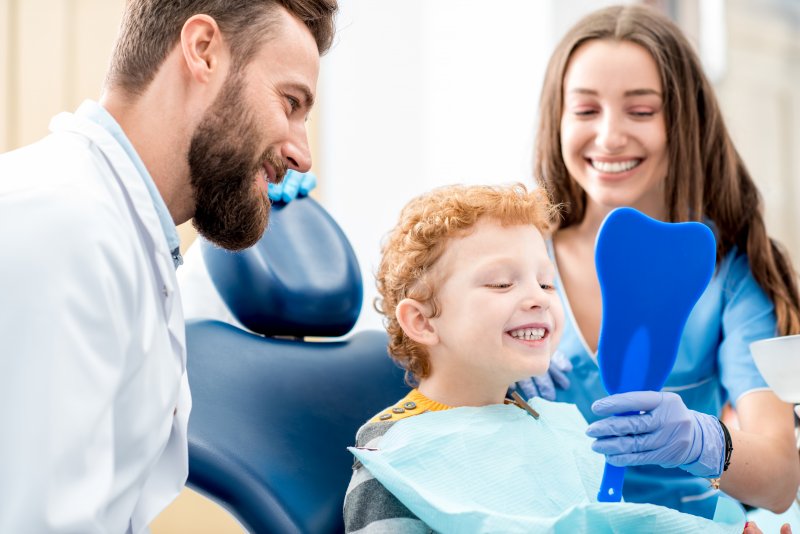 Just like you, the key to your child's oral health is regularly visiting the dentist. Once it's a part of their routine this should be no problem, but getting over the hump of the first one can be a little bit difficult for both you and your child.
Or at least, it might feel that way. Thankfully, your dentist will work as hard as possible to make the appointment stress-free for you. So long as you keep a few things in mind, you should be able to get your child through their first appointment without a problem.
When Should Their First Dental Visit Be?
It can be a little bit tricky to figure out when to start taking your kids to the dentist. Generally, it's recommended that you start taking your child to the dentist as soon as their first teeth sprout, no later than when they turn one.
You should be proactive about your child's first dental appointment, and shouldn't wait until they're dealing with an emergency. That way, you can form solid dental habits in them early on and get them comfortable with the dentist's office.
At this appointment, your dentist will look for signs of tooth decay and will let you know if there are any steps you need to take to keep your child's teeth healthy.
Tips for Making Your Child's First Dental Visit Easy
Given that your child has never been to a dentist's office before, it's likely that they're going to have a little bit of difficulty getting acclimated to the new smells and sounds. Thankfully, there are plenty of things you can do to make this first visit easier for your child:
Talk with your child about visiting the dentist beforehand so that they know what's going to happen. Reassure them that they'll be safe with you the whole time.
Try to schedule a morning appointment, when the children will be rested and calm.
Don't talk about the dentist like it's something to be scared of, or use it as a threat.
Be sure that you remain calm (as best as you can). If you're anxious, your child will be too.
About Our Practice
At G&G Pediatric Dentistry and Orthodontics, we believe that treating children's teeth isn't just about clinical knowledge—it's about creating an environment where children are going to be as happy and comfortable as possible for the duration of their stay with us. We have two specialists on staff, a pediatric dentist and an orthodontist, which gives us the versatility to handle the problems of children across age groups.
If you have any questions about your child's first dental visit, we can be reached at our website or by phone at (630) 778-9500.