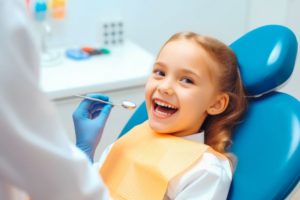 Is your child covered under your family's dental insurance policy? If so, now is a good time to think about how you can use your benefits to help your young one enjoy a healthy smile. What exactly does dental insurance for children cover, and how can you get the most out of your plan? This blog post provides some helpful reminders.
Preventive Care Is Covered
Most dental insurance policies have a strong focus on prevention. Therefore, your plan is likely to cover two cleanings and exams each year for your little one — you may not have to pay anything out of pocket! Your policy might also completely cover the cost of additional preventive services, such as:
Necessary X-rays and other diagnostic procedures.
Sealants to prevent decay on the permanent teeth.
Fluoride treatments to strengthen the tooth enamel and reduce the risk of cavities.
Keeping up with these routine services can do much to help your child avoid the pain and discomfort of serious oral health problems.
Other Services Are Also Covered
Hopefully, your child has good oral health, and all they need from their dentist is basic preventive care. However, if your little one develops a cavity or other problems, you should not hesitate to find out if your insurance covers treatment. Most dental plans for kids will pay for a significant portion of the cost of treatments like fillings, minor oral surgery (such as extractions), and more.
Additionally, many dental plans cover orthodontia for minors, even if they do not do so for adults. Your child should have an orthodontic checkup by the time they are around 7 years of age.
Your Benefits Have a Deadline
It can be easy to forget about dental visits, especially if your child is not complaining about any mouth pain. However, if you let preventive appointments slip your mind, you will be losing out on your benefits. That is because at the end of each year, your current policy may expire. Any unused benefits will be gone forever.
Therefore, if your child has not yet had their second checkup and cleaning of 2023, now is the time to book an appointment. If they have been complaining of a toothache or other symptoms, it is especially important to schedule a dental visit as soon as possible.
Are you making good use of your child's dental insurance? Doing so will help your little one to establish the foundation for a lifetime of healthy, happy smiles.
Meet the Practice
Drs. Cory and Nicole are a husband-and-wife team who provide comprehensive oral health services for children in the Naperville area. They approach each case with empathy and great attention to detail. Our practice welcomes insurance, and we are in-network with a number of popular plans. To learn more about how we can help you maximize your family's benefits, contact our office at 630-703-0511.